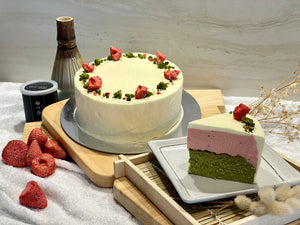 This delight combines the earthy notes of matcha with the sweetness of fresh strawberries in a luscious cheesecake.
The matcha basque cheesecake base provides a unique twist, while the strawberry yogurt mousse adds a delightful tang. To crown this masterpiece, we generously top it with a velvety Vanilla cream frosting.
For the finishing touch, we garnish it with matcha cookie crumbs and delicate dried strawberries, creating a visual masterpiece that captures the essence of Japan's rich flavors.
** Please note that cookie crumbs garnish is not gluten free. Please leave us a note if gluten free version is required. **
Size: 6"

Due to staff shortage, we're currently unable to offer delivery service for our pastry products.
In-store pickup is still available.

Thank you for understanding.
Please be advised that food prepared here may contain these ingredients: Milk, Cheese, Eggs